What is AcuraWatch™?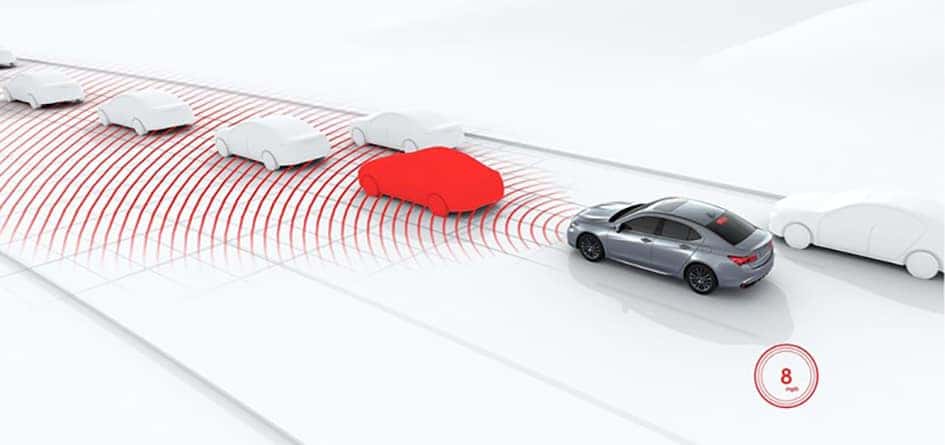 Look at vehicles across the range of 2020 Acura models and you'll see that each one offers AcuraWatch™ technology, but what is AcuraWatch™? It's a suite of advanced technologies that work together to enhance your awareness of the road around you and even act independently to prevent collisions.
AcuraWatch technologies include:
Collision Mitigation Braking System
Forward Collision Warning
Lane Keeping Assist System
Blind Spot Monitoring
Rear Cross-Traffic Alert
Road Departure Mitigation
Read on to discover how each Acura safety feature works to keep you protected and which models provide AcuraWatch™ technology as standard.
How Does AcuraWatch™ Technology Work?
Adaptive Cruise Control
Like conventional cruise control systems, Adaptive Cruise Control maintains your preset cruising speed, but it also increases or decreases that speed automatically to maintain a safe distance from the vehicle ahead. When you approach a vehicle, your speed will be decreased. As that vehicle moves further ahead, your speed will be increased to compensate, making this a great feature for dealing with stop-start traffic.
Collision Mitigation Braking System
One of the most sophisticated safety systems available, Acura's Collision Mitigation Braking System will apply the brakes automatically when a frontal collision becomes inevitable to reduce the force of collision and help keep you protected. Lighter braking will help avoid the collision altogether, but fail to react and stronger braking will be applied to mitigate impact force.
Forward Collision Warning
Even a momentary distraction from the road ahead can put your safety in jeopardy, but the Forward Collision Warning system never ceases watch. Operating at speeds above 3 mph, it can detect vehicles ahead, sense when the distance is diminishing, and compare vehicle speeds to determine if a collision may occur. If you're in danger, an amber "Brake" message in the Multi-Information Display will flash and a beeping sound will be issued.
Lane Keeping Assist System
A windshield-mounted camera reads common lane markers and provides audible and visual alerts if you start deviating from your lane without signaling. Fail to act and corrective steering pressure will be applied to bring you back to center. A survey covering 72,000 vehicles by Consumer Reports showed that 35% of drivers found their Lane Keep Assist System helped avoid a crash.
Blind Spot Monitoring
It's tricky to see what's in your blind spot, so the Blind Spot Monitoring keeps you aware of other vehicles automatically. When one enters your blind spot, an icon will appear on the appropriate side mirror. Try to change lanes before it leaves and an alert will be provided to help avoid an accident.
Rear Cross-Traffic Alert
A sensor in the rear bumper lets you know when vehicles are approaching from left or right as you reverse at low speeds, so even maneuvering in crowded parking lots or around busy city streets feels easier and safer than ever.
Road Departure Mitigation
Uses the same windshield-mounted camera as the Lane Keeping Assist system to identify common side of the road markers, including Bott's Dots, cat's-eyes, and painted lane lines, and provide a warning when you're about to leave the road. Fail to act and corrective steering pressure will be applied.
Which Acura Vehicles Offer AcuraWatch Technology
AcuraWatch features might represent the cutting edge of safety technology, but that doesn't mean you'll need to go deeper into your pocket to get them. In fact, you'll find features from the AcuraWatch suite included as standard with the following Acura models:
2020 Acura ILX
2020 Acura TLX
2020 Acura RLX
2020 Acura RDX
2020 Acura MDX
AcuraWatch Technology Provides Next-Generation Peace of Mind
A vehicle fitted with AcuraWatch technology brings advanced safety to your drive, and you'll find it as standard in all the Acura models listed above. To take a closer look, arrange a couple of test drives, or simply hear more about current specials, visit your local Chicagoland Acura dealer or feel free to get in touch directly.