What Causes Tires to Wear Unevenly?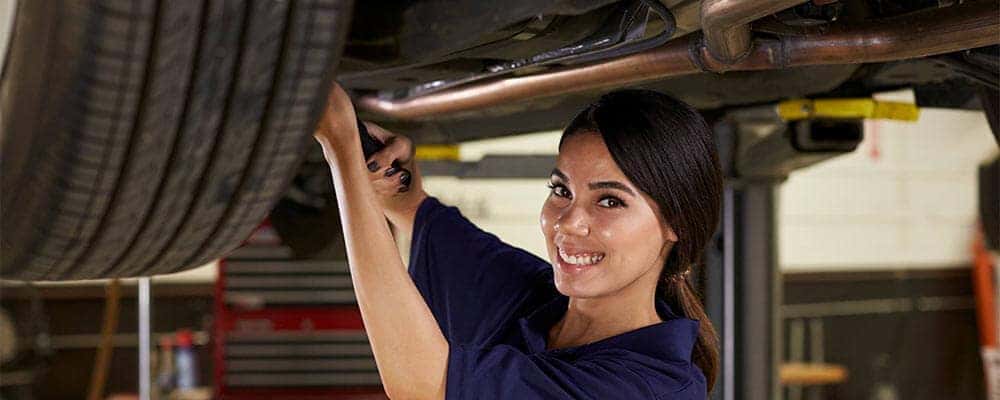 Every driver should understand the importance of knowing what causes tires to wear unevenly. A worn tire can't properly grip the road, and uneven wear may be a sign of more serious underlying problems. To help you understand what can cause uneven tire wear, we've put together a quick look at everything you need to know, including:
Poor Wheel Alignment
Overinflation and Underinflation
Suspension Issues
Missed Tire Rotations
Poor Wheel Alignment
If you notice excessive wear along the inner or outer edge of your tires, you're probably looking at a wheel alignment issue. That means your wheels are leaning too much to the left or right as you drive. You may also notice issues with your steering and suspension if misaligned wheels are the reason for uneven tire wear, so don't hesitate to seek alignment services as soon as possible.
Overinflation and Underinflation
Tires with too much air tend to wear down more rapidly along the center of the tread. In contrast, underinflated tires will wear down faster on the shoulder of the tire because they are making too much contact with the road below. Check your owner's manual for the recommended tire pressure, then check regularly to make sure everything is as suggested.
Suspension Issues
Notice any dips or smooth spots on your tires? This is known as cupping, and it's often a sign your suspension system needs attention. When parts are worn or bent out of shape, the tires will bounce slightly as you drive.
Overdue Tire Rotation
Check your recommended maintenance schedule and you'll be told how often the tires need to be rotated. If you don't follow the recommended tire rotation schedule, you may start to notice patchy wear across your tires.
Trust Our Service Centers to Keep Your Acura in Like-New Condition
As noted by Edmunds, "there's no denying the quality of Acura's vehicles, nor their appealing mix of performance, technology and value." You can keep yours in pristine condition by following our maintenance advice. To find out more or hear about current specials, simply contact us today or visit your local Chicagoland Acura dealer.