How to Pack a Winter Emergency Car Kit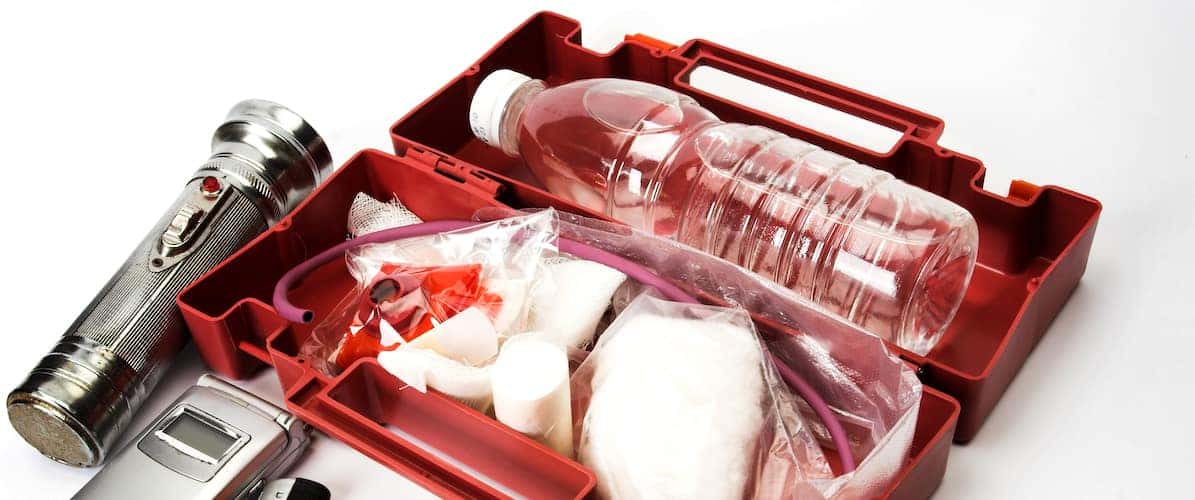 It's always smart to be prepared, and that goes double when you'll be driving during the winter. Whether you get caught in a blizzard, skid on ice, or simply suffer a flat tire, getting caught out in the cold can be dangerous as well as inconvenient, but you can protect yourself by learning how to pack a winter emergency car kit.
The team at our service center are well aware of the strain winter driving can put on your vehicle, so we've put together a quick overview covering:
What Should Go in Your Winter Car Safety Kit
How You Should Prepare for Winter Driving
What Should Go in Your Winter Car Safety Kit
Start by finding a large, transparent storage container with a sealable lid to hold the majority of these items. It should fit snugly in your vehicle and provide room and protection for everything you need.
Here's what the best car emergency kit should hold:
Jumper Cables: These should be a long set of 15 feet or more, and you should learn how to jumpstart a car to ensure you're prepared if you ever need to use them.
LED Flashlights: You may need to walk at night to seek help, so a strong LED flashlight is essential. Be sure to stock extra batteries.
Snow Scraper: Used to wipe your headlights, taillights, and windshield wipers. Look for one with a brush at one end and a hard scraper on the other.
5 lbs. Bag of Sand or Road Salt: Poured sparingly under each tire, sand or road salt can provide the added traction you need to get out of the snow. Kitty litter also works in a pinch.
Strong Snow Shovel: You may need to dig yourself out of snow at some point, so make sure you have a tough shovel that's up to the task.
Chemical Warmers for Hands and Feet: You can find these in sporting goods and hardware stores. They're ideal for keeping your extremities toasty if your vehicle breaks down during winter.
Warm Clothing and a Blanket: Pack an extra hat, scarf, pair of mittens, and pair of boots. Additional layers will help if you need to walk for assistance or simply get chillier than you expected. A blanket or winter-rated sleeping bag is another smart addition.
Long-Lasting Food and Water: If you ever get stuck and need to wait for assistance, having long-lasting food and plenty of water is vital. Things like unopened jars of peanut butter and protein bars work great. Remember to store water separately to prevent it freezing.
Six-Pack of 30 Minute Road Flares: Found at most auto parts stores, these are ideal if you need to signal or start a fire.
Cell Chargers: Your cell phone can be a godsend when you're stuck during winter, so pack both a standard plug-in charger and a solar charger.
Spare Wiper Blades: A broken wiper can be a huge problem during periods of heavy snow, so it's smart to pack some spares.
First Aid Kit: Bring a few days' worth of any necessary medication to be on the safe side.
Emergency Toolkit: An emergency tool kit for your car should contain a good multitool with a knife – you'll find them available at hardware stores or online.
Tire Chains: When ice and snow pile up, chains will keep you moving. Before packing them in your kit, practice putting them on and off.
How You Should Prepare for Winter Driving
Having the right winter car safety kit and emergency tool kit for your car is important, but you should also heed the following advice for driving during winter:
Check tires and chains before the first winter storm.
Check tire pressure frequently throughout winter.
Get a vehicle winter maintenance check-up before the worst weather hits.
Don't let your fuel tank fall under half full.
Program your radio to pick up traffic reports and emergency messages.
Preparing the Best Car Emergency Kit for Winter is Something Every Driver Should Do
The team at your local Chicagoland Acura dealer will always be happy to assist whether you need help putting together a winter car safety kit or feel like taking advantage of current specials. For any further advice, feel free to get in touch today.
Latest from Chicagoland Acura Dealers
Yes, there will be an Acura TLX Type S, and one trim we at our Chicagoland Acura Dealers are particularly excited about is the 2023 Acura TLX Type S PMC Edition! Get all the details below! Three different colors, including Curva Red, 130R White, and Long Beach Blue Pearl Copper 20-inch lightweight wheels Carbon fiber…

It's true; Acura is offering $500 in savings for recent college graduates to put toward the Acura they've had their eyes on for years. That's an entire monthly car bill or annual maintenance cost that young graduates don't have to worry about in the future. We understand that graduation is a huge turning point…

For many years, Acura has offered a driving experience that is defined by elegance, power, and comfort. However, as the globe changes, so does the market for making cars, and Acura is no exception. This takes us to the most recent models and automobiles from the reputable maker, which smoothly combine the performance Acura is…