How to Clean Leather Car Seats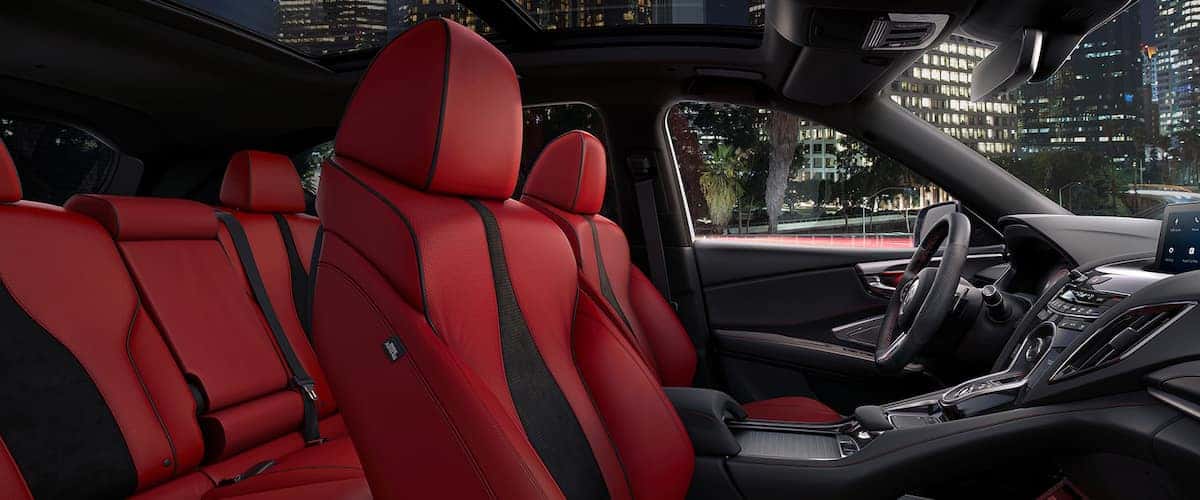 Check out new Acura models like the 2021 Acura RDX, and you'll find leather upholstery fitted as standard in most trim levels to provide executive styling and first-class comfort. Following recommended leather seat care guidelines will help keep that high-quality Acura leather in great condition for years to come. You can always have your Acura detailed professionally, but learning how to clean leather car seats is easy enough.
You'll simply:
Gather the Right Equipment
Prepare Your Vehicle
Properly Clean Your Car Leather
Clean Again a Few Times a Year
Gather the Right Equipment
Acura selected the leather that covers your seats to meet the highest standards, so you'll want to gather the right cleaning equipment before you start work, including:
pH-neutral cleaning solution
Approved leather conditioner
At least three microfiber cloths
Vacuum cleaner, wet-vac, or compressed air.
A colorless microfiber cloth is essential to ensure your leather isn't even lightly scratched or discolored during the cleaning process. If you're unsure exactly what type of cleaner or conditioner to use, you can always check your Acura's owner's manual or contact the service team at your nearest Chicagoland Acura dealer.
A few things you should not use include:
Sharp objects
Household cleaners
Darker cloths
Detergents
Leather furniture polish
Prepare Your Vehicle
It's smart to get your vehicle ready before you start cleaning the leather surfaces themselves. This should involve:
Checking for Perforated Areas: Some Acura models offer perforated upholstery. Make sure you know where the leather is perforated so you can avoid letting water, cleaners, or conditioner seep into the holes.
Perform a Spot Test: If any of the cleaners you're using are new, it's best to perform a small spot-test on an inconspicuous area to make sure it's suitable.
Vacuum Your Seats: Use your vacuum's hose and the proper attachment or a wet-dry vac to remove any larger particles of dirt. Take care to avoid scratching the leather. You can also use an air compressor to blast dirt from between cracks.
Remove Any Surface Dirt: If your leather seats are really dirty, you'll see a layer of grime across them, but even seats that seem fine can harbor some surface dirt that needs to be removed to prevent scratching the leather. Spray one of your microfiber towers with a leather cleaner and wipe them down.
Properly Clean Your Car Leather
You're now ready to actually clean your car leather. Going slowly and working in small sections to minimize the risk of discoloration, simply follow these steps:
Apply a pH-neutral cleaning solution to your leather upholstery.
Gentle clean the upholstery using one of your microfiber cloths.
Once the seats are clean, apply an approved leather conditioner. Use another microfiber cloth to carefully work it in.
Park your car in your garage or under shade. This gives the conditioner time to set out of the sun's UV light.
Wait for the conditioner to dry, then buff it in with a different clean microfiber cloth using circular motions and taking care to wipe up excess conditioner.
Clean Again a Few Times a Year
You should now be done, but keep in mind that you'll need to clean your leather seats again in a few months. As a general rule, you should:
Give your leather seats a light clean every month or so.
Give your leather seats a deep clean every 3 to 4 months. You may want to deep clean slightly more often if you have light-colored leather or simply if you begin to notice grime building up.
Proper Leather Seat Care Should Be Something Every Acura Owners Knows About
Want to find out more about anything from protecting your vehicle's interior to picking out the right leather conditioner? The team at your local Chicagoland Acura dealer will be happy to help, and we can even provide current offers to help you save whether you're looking for servicing, parts, or a brand new vehicle. For any further advice or assistance, simply get in touch today.
Latest from Chicagoland Acura Dealers
Yes, there will be an Acura TLX Type S, and one trim we at our Chicagoland Acura Dealers are particularly excited about is the 2023 Acura TLX Type S PMC Edition! Get all the details below! Three different colors, including Curva Red, 130R White, and Long Beach Blue Pearl Copper 20-inch lightweight wheels Carbon fiber…

It's true; Acura is offering $500 in savings for recent college graduates to put toward the Acura they've had their eyes on for years. That's an entire monthly car bill or annual maintenance cost that young graduates don't have to worry about in the future. We understand that graduation is a huge turning point…

For many years, Acura has offered a driving experience that is defined by elegance, power, and comfort. However, as the globe changes, so does the market for making cars, and Acura is no exception. This takes us to the most recent models and automobiles from the reputable maker, which smoothly combine the performance Acura is…