Explore High-Performance Cars from Acura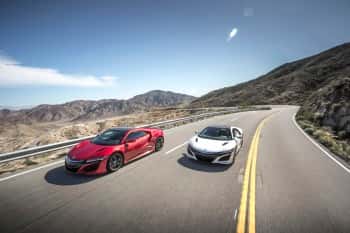 Out of all the luxury manufacturers, only Acura has a vision of the future that is sure to pique the interest of Chicagoland drivers. Theirs is one in which innovative, high-performance technology gives the driver more control and brings excitement back into your daily journeys. The engineers at Acura have always been driven by their "Precision Crafted Performance" mantra, but now more than ever before, they're producing vehicles that dazzle the senses and foster a truly unique bond between car and driver.
Enjoy Top-Tier Performance with the NSX and the TLX
The last decade has seen Acura attempt a variety of strategies to increase the appeal of their brand, but this time around, things are different. Acura's President, John Ikeda, recently noted that Acura began as a driver-focused performance brand, and now they're getting back to their roots to give drivers more of what they really desire! The proof of this new trajectory exists in two of this manufacturer's newest models, the 2017 Acura NSX supercar and the 2018 Acura TLX A-SPEC. The NSX had left the production circuit for quite some time, and its recent re-release gave drivers plenty of reasons to get excited.
One review from Edmunds.com says it all: "Just as we did with the original, we love the 2017 NSX's sharp handling and driver-focused cockpit. And this time around, it's got a hybrid powertrain that satisfies modern sensibilities with its mix of power and fuel economy." The new TLX sports the luxurious interior and numerous technology features that drivers expect from Acura, and what's more, it's available with performance-enhancing features like Super-Handling All-Wheel Drive. Acura unveiled their Precision Concept Vehicle at this year's Detroit Auto Show, and its innovative, energetic form has inspired the TLX's sporty new A-SPEC design.
Test Drive an Acura
The spokespeople at Acura have said that this is just the beginning of their new push toward high-performance, driver-focused cars, and we can't wait to see what they come up with next. If you're eager to get behind the wheel of one of Acura's new models, then stop in for a test drive today at one of our Chicagoland showrooms. When you take advantage of our current offers and financing options, you can enjoy true quality on any budget. Start your adventure today.