How Does AcuraWatch Keep You Protected Behind the Wheel?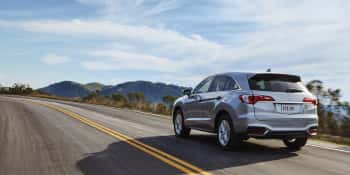 Chicagoland drivers know how important safety is: With our brutal winters and slick roads, things can get dicey fast in January and February, but even during the summer, the lake effect can keep things exciting weather-wise, whether you're out in the suburbs or in the city. Luckily, the new Acura cars come designed with your safety in mind: With AcuraWatch, you'll be able to sit back and relax, knowing that your safety is covered. But what is AcuraWatch? Read on for the details.
AcuraWatch: An Overview
Basically, AcuraWatch is a collection of safety systems designed to keep you and your passengers as safe as possible out on the road.
Collision Mitigation Braking – With Collision Mitigation Braking, your Acura will be able to survey the road around it and spot imminent collisions before they happen using both audible and visual warnings. It can also exert light braking to prevent a collision before it's too late; if it determines that a crash is unavoidable, it will exert strong braking.
Forward Collision Warning – In cases when you're momentarily distracted, this system can alert you to the possibility of a collision by emitting a beeping sound and then flashing an amber "Brake" message in the display screen.
Lane Keeping Assist System – Designed to keep you on track during highway drives, Lane Keeping Assist will alert you when you've begun to drift from your designated lane of travel.
Road Departure Mitigation – Like Lane Keeping Assist, Road Departure Mitigation keeps you on the road at all times by sending you signals when it detects that you're in danger of leaving the roadway.
Test Drive a New Acura
When you're ready to test drive a new Acura for yourself and observe AcuraWatch in action, simply pay a visit to one of our Chicagoland Acura Dealers, where you'll be able to take any one of our Acura models out on the road. Be sure to check out financing options and current offers first, and also explore our Acura lease specials. Then find your nearest dealer location, or contact us to arrange a visit. We look forward to seeing you soon at Chicagoland Acura Dealers!