Acura Wins Big at the 95th Pikes Peak International Hill Climb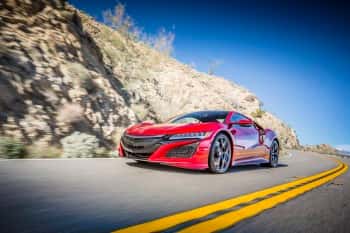 Every year, performance-driven manufacturers will bring the best they have to offer to the Broadmoor Pikes Peak International Hill Climb, as driving enthusiasts all across the country wait to see who will perform most impressively. Chicagoland drivers who've paid attention to the competition in recent years will hardly be surprised to learn that Acura's vehicles have once again proven themselves superior to their challengers in this year's series of races. Both the 2018 Acura TLX and the 2017 Acura NSX were able to manage some incredible track times—even when confronted with technical difficulties that threatened to slow them down!
Acura Rises Above the Rest
Acura faced stiff competition at this year's round of races, but they still managed to excel in a variety of different categories. Perhaps most impressively, Acura's modified TLX GT managed to place second overall, and even set a new record in the Open Class category with a run time of 9:33.797. What's more, the GT achieved its success after experiencing spark plug problems early on in the race; one can only imagine what it could accomplish in perfect condition.
The competition also included the Acura TLX A-SPEC's first race, and here too, Acura performed ahead of the curve. The A-SPEC TLX took home first place in the Exhibition Class with a total time of 11:03.655. The 2017 Acura NSX also made an appearance this year, coming hot off its top-ranking finish in last year's challenge. Its third-place finish in the Time Attack 1 race—with a time of 10:03.433—proves that this one-of-a-kind supercar is here to stay. Those who want more information on how these races broke down can learn more from a Motor Trend report.
Take an Acura for a Test Drive!
If you're as excited as we are about Acura's success at the International Pikes Peak Hill Climb, then you're sure to love how you feel behind the wheel of one of these remarkable machines. Take advantage of our financing options and current offers to take home an Acura TLX or an Acura NSX of your very own today! Use our contact page to start a conversation with one of our experts, or just swing by one of our easy-to-reach Chicagoland Acura Dealers to learn more.