Acura's SH-AWD Is the First of Its Kind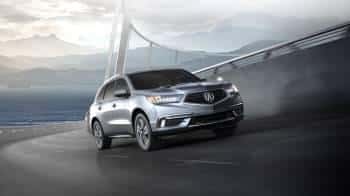 Chicagoland drivers know that no other vehicle handles like an Acura, and yet, the reasons behind Acura vehicles' exceptional performance remains a mystery to some! Although one could cite numerous elements that separate Acura from the competition, no engineering achievement has played a greater role than Super Handling All-Wheel Drive. We'll work out the details of its functioning below, but for now, it's enough to know that this feature has allowed Acura's engineers to produce some of the best AWD sedans and AWD sport utility vehicles available from any manufacturer today.
Breaking Down SH-AWD
Recently, Acura's Super Handling All-Wheel Drive was named one of The Top All-Wheel-Drive Systems by Autotrader, but what exactly makes it so special? For starters, we should note that SH-AWD dates all the way back to 2004, when similar AWD functions were completely unheard of. On vehicles equipped with SH-AWD, each wheel is powered and rotated independently of the others. This design feature is the foundation of the sublime control that Acura drivers experience every time they get behind the wheel. By keeping track of key metrics like weather conditions, weight distribution, traction, and your steering angle, SH-AWD is able to direct power right where you need it most. The power of this feature is especially apparent when you're cutting around a tight corner. In these scenarios, SH-AWD limits the speed of your inside wheels and increases the rotation of those on the outside.
Since its inception, the engineers at Acura have managed to build SH-AWD into a huge variety of different automobiles. No vehicle better embodies the spirit of SH-AWD than the 2017 Acura NSX supercar, but there are plenty of other options for drivers to choose from. Among these, we find classic luxury sedans like the 2017 Acura RLX and the 2017 Acura TLX, as well as SUVs like the 2017 Acura MDX and the 2017 Acura RDX.
Experience Super Handling All-Wheel Drive
Discover the feel of Super Handling All-Wheel Drive by test driving any of Acura's vehicles at a Chicagoland Acura Dealer near you! SH-AWD was the first feature of its kind, and it continues to reign as the most responsive, exciting systems available! Explore our current offers today.