Acura's New and Improved On Demand Multi-Use Display 2.0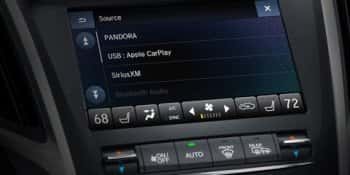 Chicagoland drivers on the lookout for a sharp and satisfying infotainment system have come to the right place! The 2018 Acura TLX is the first car in Acura's lineup to sport the new On Demand Multi-Use Display 2.0 (ODMD) technology, and drivers have plenty of reasons to get excited about this new technology. The folks at Motor Trend have written that this year's TLX combines luxury and logic, adding that it comes equipped with tons of standard features compared to comparable models in its class. If you want to be able to make full use of the TLX's huge array of convenience, entertainment, and technology features, then you'll certainly want to familiarize yourself with the On Demand Multi-Use Display 2.0.
Control All of Your Favorite Features from One Location!
The On Demand Multi-Use Display 2.0 comes standard on every trim level of the 2018 Acura TLX, alongside numerous other standard features. The new ODMD now processes requests and commands up to 30% quicker than the interface that appeared in earlier models, and that means you'll spend less time fiddling with buttons and more time enjoying your ride. Key components of the ODMD system include a dedicated button banner located toward the bottom of the screen that provides full controls for all of the TLX's climate settings. What's more, the ODMD offers controls for audio and connectivity features and makes it easy to select from the TLX's myriad sources. It even displays song and artist information from various radio stations! All in all, there's almost nothing it can't do.
Take the 2018 Acura TLX for a Test Drive!
Chicagoland drivers who take the time to explore our current offers and financing options can take home the 2018 Acura TLX at a great price, and with its On Demand Multi-Use Display 2.0, you'll be able to start customizing your experience the second you drive it off the lot. Reach out to us today or visit one of our convenient Chicagoland Acura Dealers locations to learn more and take the TLX for a test drive!