Performance of the 2018 Acura NSX
Performance of the 2018 Acura NSX
There's no car quite like Acura's flagship high-performance supercar, and it's impossible to assess this vehicle's capabilities without keeping one simple fact in mind. As the writers at Kelley Blue Book have noted, "the 2018 Acura NSX is the luxury brand's fastest, quickest and most powerful machine. Ever." With this much excitement surrounding the 2018 Acura NSX's performance, it's no wonder that drivers across Chicagoland are so eager to see what it can do! Before you spend time behind the wheel of this one-of-a-kind automobile, find out what to expect by reading our breakdown of the NSX's horsepower, drivetrain, and design features.
Hybrid Technology That Won't Disappoint
The near-limitless power and unparalleled control you'll enjoy behind the wheel of the NSX are the products of its Sport Hybrid powertrain, a unique setup composed of three independent power sources. With Super Handling All-Wheel Drive and Automatic Torque Vectoring, you'll get a rush of excitement with every turn.
Sport Hybrid Drivetrain: The Acura NSX has helped drivers everywhere reimagine what a hybrid car can do. In addition to its powerful engine, the NSX sports a front-mounted 36+36-hp Twin Motor Unit (TMU) and a 47-hp Direct Drive Motor that's been linked to the rear wheels. Working together, they allow for dramatically improved acceleration and handling. What's more, thanks to these electric motors, the ultra-high-powered NSX gets real-world fuel economy of 21 mpg city, 22 mpg highway, and 21 mpg combined*!

Super-Handling All-Wheel Drive: Once you've experienced the NSX's Super-Handling All-Wheel Drive, you won't believe want to live without it! A centrally located Intelligent Power Unit allows for independent control of power source and wheel. When this system is active, the NSX's Twin-Motor Unit engages in automatic torque vectoring whenever you go into a curve—ensuring an unforgettable experience behind the wheel.

Integrated Dynamics System: The NSX gives you the freedom to switch between Quiet, Sport, Sport+, and Track Modes, making it the perfect companion for nearly any driving scenario. Each mode offers a distinct combination of energy, aggression, poise, and agility by making significant adjustments to eleven different performance features and drivetrain components.

Powertrain and Transmission: The central power source in the NSX is a 3.5-Liter DOHC Twin Turbo V-6 engine, and it's not hard to see why it has our friends and neighbors are so excited. It can produce as much as 500-hp and up to 406 lb.-ft. of torque, and since it's paired with a 24-valve IN/EX VTC, chain-driven camshafts, dry sump lubrication, and a Drive-by-Wire Throttle System, you can be sure that it'll make the most of every ounce of gas you pump into it.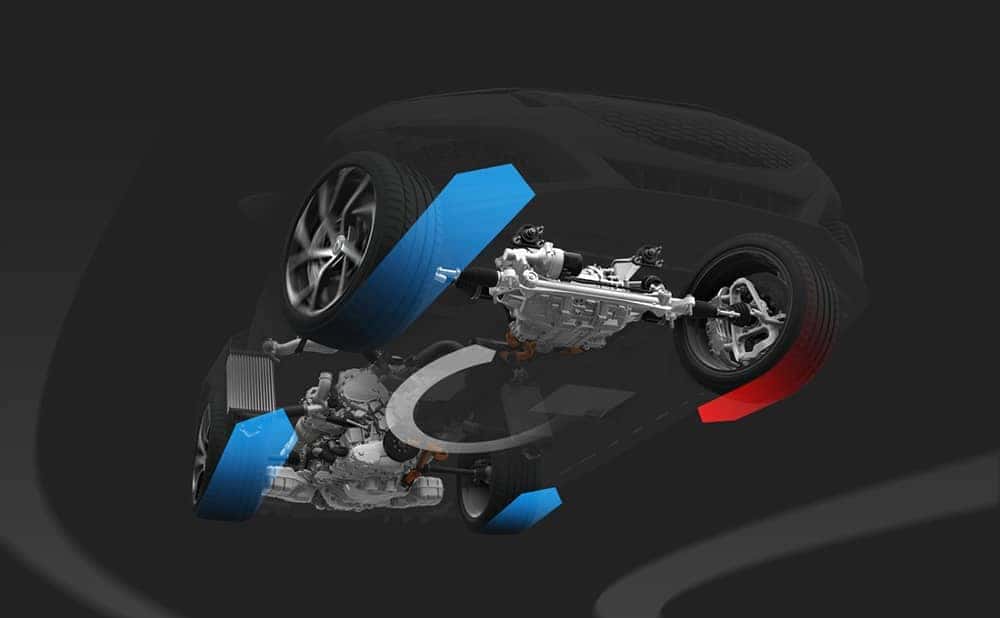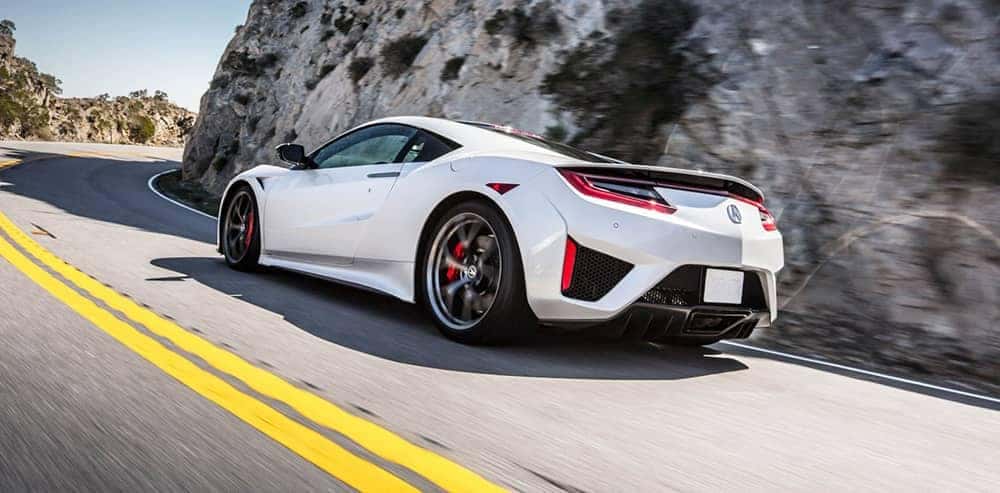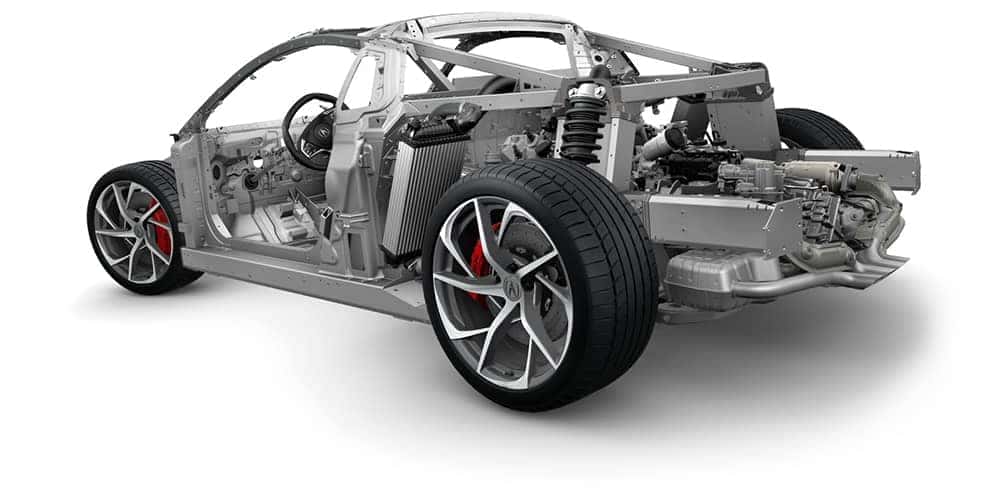 Elegance and Excellence: NSX Exterior Design Features
The engineers and designers at Acura considered everything when they designed the NSX, and every inch of its lightweight, multi-material exterior has been designed to help you make the most of its incredible power. This supercar's cleverly designed Space Frame gives it one of the lowest centers of gravity in its class and one of the smoothest touring experiences imaginable.
Suspension and Adaptive Dampers: The 2018 NSX's ultra-lightweight all-aluminum suspension and its third generation magnetorheological (MR) dampers allow it to provide an exceptionally smooth ride, no matter where the thrill of adventure leads you. MR Dampers make minute, rapid adjustments to your suspension more than 1000 times per second.

Space Frame: The NSX's specially-designed Space Frame has been manufactured with ablation-cast aluminum frame nodes, highly rigid aluminum extrusions, and among other materials, high-strength streel. In building the NSX with this foundation, the engineers at Acura have succeeded in fostering a more stable, more enjoyable, and ultimately more secure driving experience.

Total Airflow Management: The engineers at Acura considered everything when they designed the NSX, and thousands of hours of computational flow dynamics tests have made this supercar as aerodynamic as they come! Instead of working against the wind, the ultra-aerodynamic NSX utilizes its 10 sculpturally structured air intakes valves to cool its internal components. Moreover, the NSX's sleek multi-material exterior allows for the generation of significant rear downforce, keeping you grounded and in control.

Wheels, Tires, and Brakes: The NSX's 19.8-Inch Front and 20-inch Rear wheels have been composed with Forged Aluminum. Each comes standard with high-performance summer tires, and ultimate handling performance tires are available as an upgrade. Hybrid Regenerative Braking charges the NSX's power sources as you drive, and when you select this supercar, you'll be able to choose between High-performance Brembo Hydraulic Brakes and the even-more-durable Floating Carbon Ceramic Disk Brakes.