Explore New Roads with Acura's Navigation System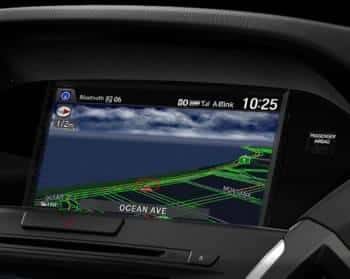 Chicagoland drivers have always had good things to say about Acura's vehicles, and every year, they find more and more to love inside of Acura's remarkable sedans, crossovers, and SUVs. One of the most potent technology features available across Acura's lineup is the Acura Navigation System with HD Digital Traffic! This useful feature makes it easier than ever to get from point A to point B by equipping drivers with the most up-to-date information and controls that couldn't be easier to use. The Acura Navigation System is included with Acura's Technology Package, which means it's a standard or available feature throughout Acura's model lineup.
Acura Navigation System: Capabilities and Controls
The first thing that drivers should know about the Acura Navigation System is that it's as fast as any comparable navigation system. It's been equipped with its own hard drive, and that means that the Acura Navigation System is ultra-responsive, capable of providing you with clear and precise directions mere moments after you've entered your destination. Drivers will be able to control their navigation technology using the system's voice-activated controls or its built-in interface dials. With respect to the Acura MDX, Edmunds.com notes that the navigation system is "straightforward to use via the rotary knob, with easy zoom and pan functions," and we're inclined to agree. This navigation system presents information on an 8-inch VGA screen, using special displays and signals to help guide you through the more confusing twists and turns of the open road. What's more, Acura drivers can use their navigation system's optional 3D viewing feature to gain a crystal-clear picture of their surroundings.
HD Digital Traffic Technology
The Acura Navigation System gives you the power to adapt your route on the fly in response to changing roadway conditions. With HD Digital Traffic technology, all major roadways are color-coded to help drivers find the least congested routes, and what's more, all roadway incidents and dangerous weather patterns are clearly indicated with icons! Moreover, you'll always have access to the most up-to-date roadway and traffic information; buyers automatically receive a Lifetime Navigation Traffic Subscription.
See What the Acura Navigation System Can Do!
The best way to learn more about the Acura Navigation System is to take one of Acura's vehicles for a test drive! Find the right vehicle by exploring our current offers and finance options, and once you've seen enough, visit your local Chicagoland Acura Dealers location to get behind the wheel.