Tailor Your Dream Car to Fit Your Needs with the Acura Mobility Program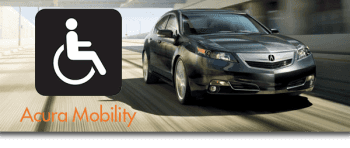 If you're shopping for a luxury vehicle but have special needs due to a physical disability, did you know you can get help adapting an Acura vehicle to meet your needs through the Acura Mobility Program?
For each eligible, original retail client who purchases and installs adaptive equipment on an eligible leased or purchased Acura model, Acura will reimburse up to $1,000 of the cost.
Help for Disabled Consumers
Any new Acura model can be converted into a mobility vehicle, and Acura is proud to help make it happen!
Supporting the needs of drivers and passengers who are physically disabled, the Acura Mobility Program can provide cash reimbursement of as much as $1,000 when buyers or lessees have aftermarket adaptive equipment installed on any eligible Acura model.
Don't let a disability stand in the way of owning the vehicle of your dreams! Get the equipment you need installed on the vehicle you want and enjoy the ride like never before. Acura is here to help!
Stipulations
To qualify for reimbursement through the Acura Mobility Program, an applicant must be the original vehicle owner or lessee, and the modifications to the vehicle must be completed for that original owner or a member of the original owner's immediate family.
The vehicle must also be a new Acura vehicle that has been purchased or leased in the United States from an authorized Acura dealer. Reimbursement will be considered only for vehicle modifications performed after February 1, 2004.
Only one reimbursement request is allowed per vehicle. Commercial and fleet vehicles are not eligible, and written request for reimbursement must be received by Acura within six months of the adaptive equipment being installed. Additionally, adaptive equipment deemed by Acura to have altered the safety of a vehicle will not be eligible.
Take Advantage of Acura's Mobility Program Today!
To learn more about the Acura Mobility Program, visit the finance team at your nearest Chicagoland Acura Dealers location today. We'll be glad to go over the program details with you and then show you around our lot, where an array of gorgeous Acura models is ready and waiting for your perusal!