2020 Acura NSX Horsepower and Performance
While every character line, crease, and panel adds to the vehicle's visual allure, their main purpose is flawless aerodynamic performance, and thousands of hours of computational fluid dynamics (CFD) and wind tunnel analyses were employed to that effect.
Three times the downforce at the rear provides optimal balance,
Meticulously carved lines allow the vehicle to cut through the air.
Total airflow management delivers unparalleled performance.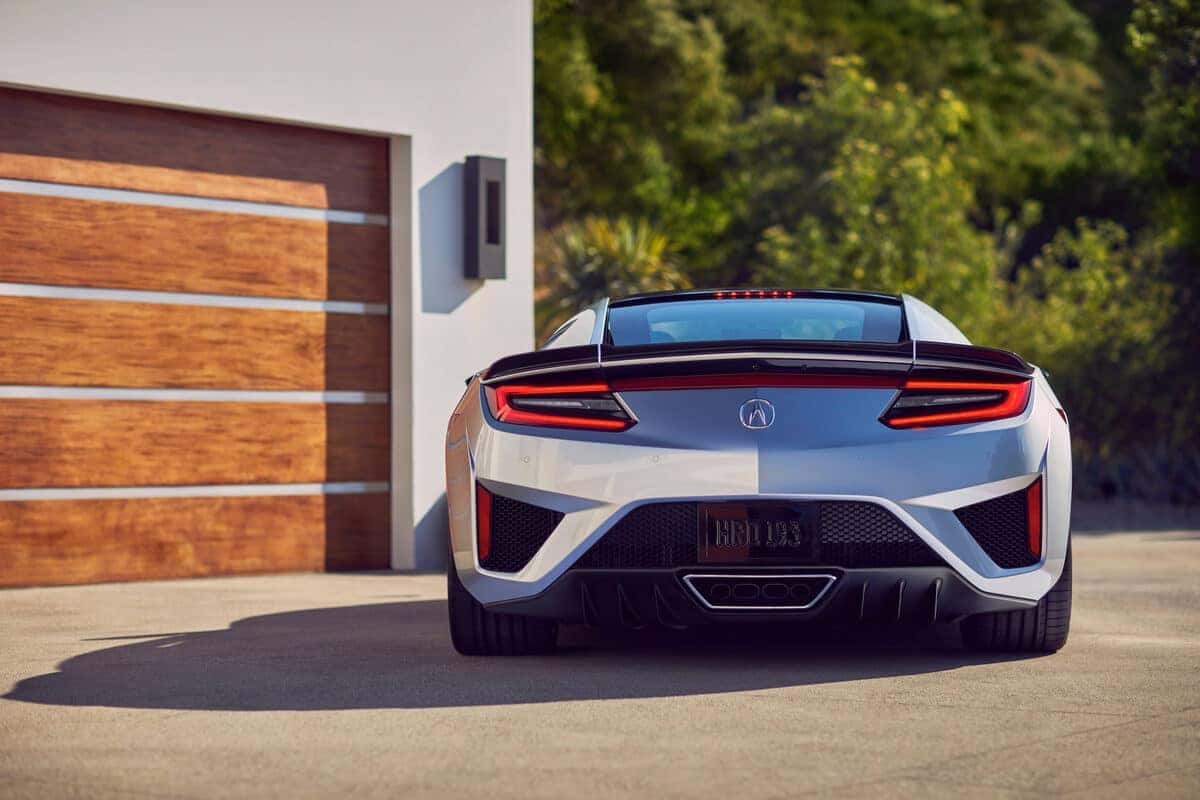 The Sports Hybrid Power Unit unites for up to 573 hp and 476 lb-ft of torque, with powertrain elements including:
Power Drive Unit (PDU): Manages battery recharge and hybrid motor power.
3.5L DOHC Twin-Turbo V6: Longitudinally mounted with a 75-degree V-bank, the V6 alone generates up to 500 hp and 406 lb-ft of torque.
9-Speed Dual-Clutch Transmission: Uses 1st for fleet-footed launches, 9th for commanding cruising, and close ratio 7-speed gearbox for everything in between. Steering wheel-mounted paddle shifters provide direct control when you desire it.
Twin Motor Unit: Controls two independent electric motors at the front wheels to deliver immediate torque for phenomenal acceleration.
Intelligent Power Unit (IPU): Positioned low and central behind the seats to direct energy to electric motors at the front and rear.
Direct Drive Electric Motor: Attached directly to the driveshaft for instant torque and acceleration. Use Launch Mode at the track to take half a second off your acceleration.
Further Acura NSX performance features include:
All-Aluminum Suspension: Uses 3rd generation magnetorheological (MR) dampers that respond to the road below more than 1000 times a second.
High-Performance Brembo® Hydraulic Brakes: Virtually fade-free brakes ensure unrivaled stopping power.
Integrated Dynamics System: Customizes 11 components to meet the needs of four separate drive modes (Quiet, Sport, Sport+, and Track).
The vehicle also benefits from a strong selection of active safety features responsible for adjusting drive dynamics for untouchable control:
Vehicle Stability Assist® (VSA®) with Traction Control
Anti-Lock Braking System (ABS)
Electronic Brake Distribution (EBD)
Tire Pressure Monitoring System (TPMS) with Location and Pressure Indicators
Brake Assist