Compare the 2017 Acura RLX Standard Features to the 2017 BMW 5 Series Sedan 530i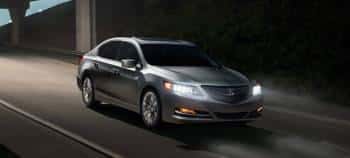 Chicagoland drivers appreciate the affordability of the 2017 BMW 5 Series 530i, but those who like the look of this luxury sedan could benefit from doing a little bit more research before they make their final decision. The 5 Series 530i is priced slightly lower than the 2017 Acura RLX with Technology Package, but when we look at the standard features offered by each model, we quickly see that the latter is a much better purchase on the whole. Chicagoland drivers who choose the RLX will receive a number of standard features that they won't find in the BMW.
Comfort, Convenience, and Entertainment in the RLX
The 2017 BMW 5 Series Sedan 530i is billed as a luxury sedan, but when drivers take the time to explore its standard features, they'll find it lacking in a variety of areas. Many already know that the RLX's standard 3.5L engine is much more powerful than the 5 Series' 2.0L block, but this is far from the only factor that separates the two sedans. Over and above the features offered on this BMW, the RLX with Technology Package includes heated front seats, leather-trimmed seating, and noise/sound cancellation technology. Beyond these comfort features, the RLX's Technology Package provides a convenient rearview camera and adaptive cruise control, as well as entertainment features like built-in satellite radio.
We're not the only ones who think that the BMW 5 Series 530i falls short of the standard set by the RLX. According to the reviewers at Autotrader.com, Acura "wisely packs the 2017 Acura RLX luxury sedan with standard equipment that is often optional on other cars, then brings its starting price in at thousands below a comparable BMW 5 Series or Mercedes-Benz E-Class." Don't settle for second best.
Take the RLX for a Test Drive!
There's almost nothing that the 2017 BMW 5 Series Sedan 530i can do that the 2017 Acura RLX with Technology Package can't do better! Explore our current offers and financing options, and once you've found the closest Chicagoland Acura Dealers showroom, stop in to schedule a test drive! We can't wait to see you.
---