Can the 2017 Audi A6 2.0T Premium Quattro Standard Features Match an Acura?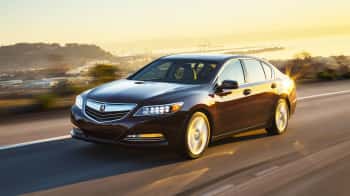 Luxury drivers are right to have high expectations for their vehicles, but these days, more and more manufacturers are limiting the standard features that they offer. For Chicagoland drivers, the 2017 Audi A6 2.0T Premium Quattro appears as one of the prime examples of this trend, especially when it's compared to a similarly priced competitor like the 2017 Acura RLX! In terms of pricing, the 2017 RLX is slightly more expensive than the A6 2.0T, but there's no denying that it offers much more for the money. With the RLX Technology Package, drivers will be able to enjoy a wide variety of useful standard features without paying through the nose for optional upgrades!
Acura RLX Standard Features
Only the Acura RLX Technology Package offers drivers the features they'll need to master the road and stay in close contact with loved ones! When you're behind the wheel of the RLX, its powerful suite of standard technologies can help to eliminate the most unappealing aspects of your daily commute! Adaptive Cruise Control, a voice-activated navigation aid, and an integrated hard drive all come standard on the RLX, but each of these features must be purchased independently in the A6 2.0T Premium Quattro. When you're driving in the Acura, a standard telematics system makes it easy to transmit information without reaching for your phone, and noise/sound cancellation provides peace and clarity wherever you happen to be. Standard LED headlights top off the list of the RLX's many advantages, and once you've seen how they illuminate the road, you'll be hard-pressed to settle for anything else.
Explore Acura's Advantages with a Test Drive!
A full breakdown of the 2017 Acura RLX's advantages demonstrate that the RLX is a better buy overall than the Audi A6 2.0T Premium Quattro. Curious drivers can get all the information they need by taking the 2017 RLX for a test drive! Head over to a Chicagoland Acura Dealers to get behind the wheel and experience all the RLX has to offer in person!