Is the 2017 Audi A4 Price Justified?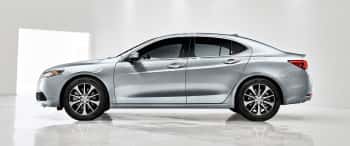 Since its launch, the 2017 Audi A4 has been turning a lot of heads, but everyone knows that a flashy appearance doesn't necessarily equate to true luxury. Although the new A4 is impressively designed and outfitted, you'll have to spend a small fortune to get everything you want in your new sedan. When you compare the price of the A4 to that of the 2016 Acura TLX, you'll see that the latter is a much better buy.
Pricing
No matter which trims you end up looking into, the 2016 Acura TLX is much more sensible choice than a comparably equipped 2017 Audi A4. The A4 2.0 TFSI is available in three different trims: Premium, Premium Plus, and Prestige, priced respectively at $37,300 MSRP, $41,100 MSRP, and $45,900 MSRP. Each of these trims offers a few interesting features, but as we'll see below, you don't need to spend this much money to feel satisfied with your luxury sedan!
With the 2016 TLX, Acura is offering their drivers much more customizability than Audi, and all within a lower price range! The Acura TLX's base 2.4 8-DCT P-AWS trim is available for $31,695 MSRP,* and you can upgrade to a 3.5L V6 engine for just $35,320 MSRP.* If you really want to maximize your power, you'll appreciate the TLX's Super Handling All-Wheel Drive, priced at $41,575 MSRP.*
Amenities and Key Features
It's easier to afford the TLX's upgraded trims than it is to afford even the base trim of the A4. Once you've chosen the engine you want, you'll be free to upgrade with either the Technology or the Advanced features packages, which give you access to a suite of intelligent driving assistance tools.
When you compare just the base trims of these two sedans, it's clear that Acura is interested in providing more for less. Heated front seats and noise cancellation are two of the standard features in the Acura 2.4 8-DCT P-AWS, but you can expect to pay extra for both on the 2017 Audi A4 base trim.
Make the Smart Choice!
Once you've experienced this Acura for yourself, you won't look twice at Audi. Take a closer look at how the 2016 Acura TLX offers more than you get for the 2017 Audi A4 price; stop by one of our Chicagoland Acura Dealers to schedule a test drive today!