The 2017 Acura NSX Named 2016 Car of the Year by Business Insider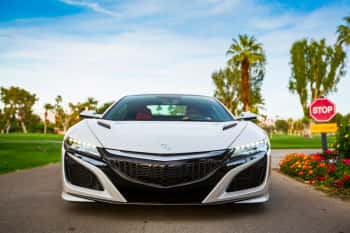 The high-performance car market is stacked with amazing vehicles that test the limits of our imagination in terms of performance, style, driving experience, technology, and innovation. That's why when Business Insider named the 2017 Acura NSX the 2016 Car of the Year, it was a huge honor. And even more icing on the cake is that the NSX snagged this title in the first year of its production, which is no small feat. At Chicagoland Acura Dealers, we think our drivers will agree that the NSX is a sensational car, inside and out.
 The NSX Driving Experience
The NSX creates an emotional connection between driver and machine. Its iconic stance on the road is executed through precise engineering and boundless innovation. With an aerodynamic design, carbon fiber materials that make the NSX strong and yet lightweight so it can really fly, and exclusive interwoven high-performance tires, the NSX is a driver's dream. Its ultra-rigid frame gives way to an agile sport handling that delivers its power to all four wheels and grips corners with spellbinding control.
Under the Hood
The NSX is powered by a 3.5L DOHC twin-turbo V6 engine that can take your breath away. It's paired with a 9-speed dual-clutch transmission to produce an amazingly powerful performance on the road. How much power? The NSX produces up to 573 hp and 476 lb-ft of torque, and it can reach a top speed of 191 mph.
About the NSX
Making its original debut in 1990, the New Sportscar eXperimental, or NSX, made quite a splash in the supercar market, rivaling competitors and taking inspiration from modern-day performance cars from Ferrari, Porsche, and Lamborghini. In 2005, the NSX took a hiatus until this year, more than a decade later. Business Insider selected the revamped 2017 NSX as the 2016 Car of the Year, citing its compelling driving experience and the business story behind the automakers that have brought it back to the road.
Find out More
Head-turning, heart-pounding, and striking a harmonious balance between power and control, the Acura NSX is beautiful in its measured delivery of strength, sophistication, and iconic style. Find out more about the 2017 Acura NSX by visiting any Chicagoland Acura Dealer today for a thrilling test drive.