2017 Acura Models with All-Wheel Drive and Winter Features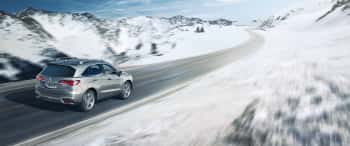 Chicagoland drivers rely on cars that can put up with harsh winter conditions and navigate icy, snowy roads. Several 2017 Acura model trims can be equipped with AWD and other comforts to help you weather the storm. All-wheel drive allows all four tires on your Acura to spin independently, providing more traction on slick or slippery roads. AWD also comes in handy when tires are stuck, which can happen often during long Chicago winters.  Take a closer look at what additional winter-beating features Acura models have to offer.
Remote Start
We've all had the experience of bracing ourselves for the harsh blast of cold air before we run out to start our car and then trudge back through the snow to wait indoors for the car to warm up. With the touch of a button from the warmth and comfort of your home or office, your 2017 Acura TLX, RLX, RDX, or MDX can spring to life and start heating up so you don't have to take trips into the early morning or evening cold.
Heated Surfaces
Your car is warmed up and ready to go. You hop in and feel the cold shock of the icy seats. Take advantage of heated seats in the 2017 Acura RDX, TLX, MDX, and RLX. Both front seats offer three levels of heating, allowing you to reach your desired comfort level more quickly and efficiently. For even more added comfort, a heated steering wheel with integrated controls tied to the remote start is available on the 2017 Acura MDX and RLX, allowing you to automatically activate the steering wheel when starting your car. With all these features combined, you'll be unstoppable in the winter snow.
Choose Your Winter Acura Now
Chicago winter is coming soon. Head to any Chicagoland Acura Dealer and test drive the 2017 MDX, RLX, RDX, or TLX. Find the right car that will get you through the long winter months with ease and comfort.