Suit Up Your SUV with Winter-Ready 2017 Acura MDX Accessories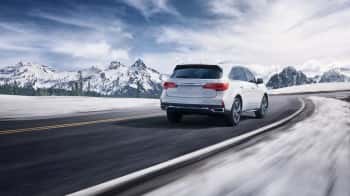 If you're looking for a third-row luxury SUV that can take your family winter adventuring in style, we invite you to explore the array of winter-ready 2017 Acura MDX accessories. This exceptional family-sized SUV is already the perfect vehicle for you and yours—add on these winter-tackling extras and you'll experience snow-time fun like never before!
Protective Accessories
Before you venture forth to hit the slopes at any of the prime winter destinations located within day-trip distance of Chicago, gear up your Acura MDX with some of the following protective accessories:
All-season floor mats – Durable and easy to clean, these mats provide excellent coverage and protection.
Second-row seat covers – Made from water-resistant, wet-suit-like fabric, these covers stand up against your snow-covered crew; they are machine washable and provide access to the child anchor latch and center armrest bolster.
Cargo liner – Load up the cargo area of the MDX with all your wet and snowy gear—this water-resistant, washable cargo liner can take it!
Door edge guards – Protect your doors against nicks and chips as you head out into the woods to snowshoe or cut down a Christmas tree.
Body side molding – This protective element safeguards against dings and damage.
Rear bumper protector – Whether you're leaving the MDX in a crowded ski resort parking lot or maneuvering in the forest, the rear bumper protector will help protect against damage.
Comfort and Convenience Boosters
Other winter-ready accessories available for the Acura MDX help enhance comfort during your wintertime outings, such as a heated steering wheel to keep your hands warm. An engine block heater additionally helps the engine fire up and the vehicle to get warm fast even in extreme temperatures.
Running boards available for the MDX aid passengers in entering the vehicle when the snow is steep or the ground is icy, and LED fog lights help you maneuver safely during inclement weather.
Finally, accessories like a snowboard attachment, ski attachment, crossbars, and roof rails help you more conveniently carry your winter recreational gear.
We'll Help You Gear Up for Winter!
To explore the full catalog of Acura MDX accessories, including these cold-weather items, head into any Chicagoland Acura Dealers location. Our team will help you suit up your SUV for the frosty months ahead!