2016 Lexus GX Trims vs. the 2016 Acura MDX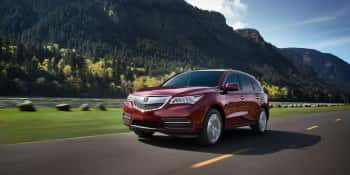 As with any of life's finer things, if you only look for the brand name on your new luxury SUV, you're going to get left behind. It's easy to see where the best options really lie when we compare the 2016 Lexus GX trims to those available for the 2016 Acura MDX. As we'll see, by choosing the Acura you'll be getting more of the amenities that you and your family desire for a fraction of the cost.
The Base Packages: Lexus GX 460 vs. Acura MDX 3.5L
Drivers tend to think that they have to pay more to receive more when they're in the market for a luxury car, and while that may sometimes be the case, it certainly isn't true here! The base trim for the 2016 Lexus GX, the 460, starts at $50,780 MSRP. For the discerning driver, the Acura is clearly the better option here: Its base 3.5L trim is priced at just $43,015 MSRP.*
Out of the gate with better combined fuel economy and a higher number of transmission speeds, the base model of the 2016 Acura MDX continues to outperform the 2016 Lexus GX at every turn. The following features come standard in the MDX, but are either unavailable or are only available as an upgrade in the GX.
Voice-activated controls
Greater interior volume: 132.3 cubic feet vs. 129.7 cubic feet
Greater cargo volune: 68.4 cubic feet vs. 64.7 cubic feet
Tri-zone automatic climate control
2-driver memory system for the driver's seat
Upgraded Amenities
Both the Acura MDX and the Lexus GX offer a variety of trims to choose from, but no matter which trim you eventually settle on, the MDX will give you more of what you want for less. The only upgrade options available for the 2016 GX are the GX 460 Premium, which starts at $55,225 MSRP, and the GX 460 Luxury, which retails for $62,155 MSRP. The 2016 Acura MDX, by comparison, offers an unbeatable selection of trim, technology, and entertainment packages, the most expensive of which will still only cost you $57,230 MSRP!*
Find out more about how the trim options for the MDX allow it to stay ahead of the higher level 2016 Lexus GX trims by visiting us in person!
Come See for Yourself!
Take another look at how these two vehicles measure up, and make sure you get exactly what you want out of your next luxury SUV by choosing the superior quality and customizability of the 2016 Acura MDX. Take the initiative by scheduling a test drive at your local Chicagoland Acura Dealer today!