Compare the 2016 Lexus GS Interior Space to an Acura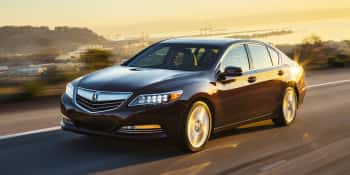 There are spacious sedans and then there's a truly welcoming sedan; when luxury drivers go shopping for a new car, we think they deserve the best of the best. When it comes to the 2016 Lexus GS interior space, it's certainly larger than an average midsize car, but it falls short of top competitors like the 2016 Acura RLX. We compared the specs for you so that you can see how much more room the Acura sedan has to offer and why it's one of the best midsize sedans of 2016.
Keep reading to see just how much easier it is to get comfortable in the RLX than the GS 350.
Finding Your Spacious Sedan
While both of these sedans have seating for up to five passengers, the 2016 Lexus GS interior space falls short of the RLX, especially for the backseat. While both cars feature roughly the same front legroom and headroom, things are decidedly different in the rear.
Rear Legroom: The RLX has 38.8 inches of rear legroom to the Lexus' 36.8 inches.
Rear Shoulder Room: The Acura has 57.0 inches compared to the GS's 55.7 inches.
If you're eyeing these two sedans and hoping to find a new family car, we think you'll want the car that gives the kids more space to spread out and less chance to get in each other's way on a long drive.
The increased passenger space in the rear lends itself to an overall more spacious cabin as well, with the RLX giving drivers more room than the GS 350:
2016 Lexus GS 350 interior space maxes out at 99.0 cubic feet.
2016 Acura RLX models have up to 102.1 cubic feet of passenger space in the cabin.
A spacious cabin is just one important part of a luxury sedan; check out our 2016 Lexus GS review to see all the other ways the RLX bests its competitor.
Test Drive an Acura
We hope that the specs and our review have given you an idea of the 2016 Acura RLX's strengths, but we know the truest test is the one you take behind the wheel. Visit a Chicagoland Acura Dealer near you today to take a test drive of the RLX and see why so many drivers love it.