Do the 2016 Lexus ES 350 Standard Features Compare to the 2017 Acura TLX?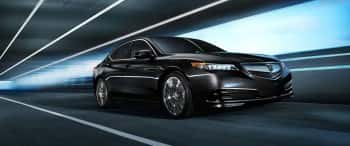 The 2016 Lexus ES 350 has recently experienced a surge in popularity among Chicagoland drivers, but many are already beginning to see through the hype that surrounds this luxury sedan. In fact, drivers who want to enjoy the very best standard features in their next new car would be much happier inside of the 2017 Acura TLX! Compared to the ES 350, the TLX 2.4 8-DCT P-AWS is simultaneously more affordable and better equipped, coming standard with tons of amenities that you'll wind up paying extra for in the Lexus.
Get the Standard Features You Need
A luxury automobile should offer a unique and compelling driving experience, but those who opt for the Lexus ES 350 will miss out on many opportunities for comfort and convenience. In the 2017 Acura TLX, on the other hand, drivers will receive everything from a power adjustable driver's seat to armrest storage. The driver's seat in the Acura isn't just power adjustable, however. This seat's two-setting memory function remembers your preferred configurations for seating, headlights, exterior mirrors, and HVAC, and allows you to access them with the press of a button! Heated front seats also come standard in the TLX, but these features are only available as optional upgrades in the ES 350. What's more, TLX standard features like speed-sensing interval wipers, paddle shifters, hill start assist, and noise/sound cancellation are all completely absent from its competitor. To enjoy similar conveniences in a Lexus, you'll need to upgrade to an even more expensive trim level!
Take the TLX for a Test Drive!
It's easy to see why discerning drivers are choosing 2017 Acura TLX 2.4 8-DCT P-AWS over the 2016 Lexus ES 350 when we take their standard features into account. Furthermore, when we consider the TLX's many additional advantages—including better gas mileage and higher residual value estimates—the Acura's superior becomes even more apparent! Chicagoland drivers can get everything they desire in their next luxury sedan by when they choose the TLX. Stop by a Chicagoland Acura Dealer today to take the this unique car for a test drive!