The 2016 Acura MDX Interior Space Offers More Room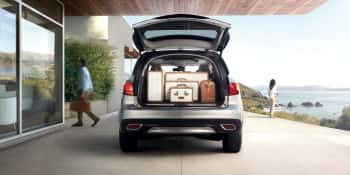 The 2016 Acura MDX interior space combines with its family-sized seating to offer one of the best seven-seater SUVs for Chicagoland drivers. These days most luxury crossovers have standard five-passenger seating, and any upgrade to seating just puts those extra spots in the cargo area, severely hampering room for backpacks, band instruments, and luggage that a family crossover requires.
The MDX is different, giving you a spacious cabin and room for up to seven passengers; let's see how the competition stacks up.
Compare the MDX Interior to Other Luxury Crossovers
Most drivers already know that the MDX is one of the few luxury crossovers that offers a standard seven-passenger seating arrangement, but did you know that many of its competitors offer less in the way of cabin volume and seating? We want to share with you the 2016 Acura MDX interior space specs and those of some of its competitors:
The 2016 Acura MDX seats up to seven passengers and has 132.3 cubic feet of passenger space as well as 15.0 cubic feet of cargo room (expanding to as much as 68.4 cubic feet).
The 2016 Lexus GX 460 also seats up to seven, but it shrinks down the cabin to 129.7 cubic feet with only 11.6 cubic feet of cargo space (expanding to 64.7 cubes).
The 2016 BMW X5 only seats five passengers but allows for a third row if drivers are willing to upgrade. Of course, it already has less space than the MDX and fitting that extra seat into the cargo area will just leave rear passengers feeling cramped.
To get an idea of how the Acura compares beyond its spacious interior and family-sized seating, see how its features and specs stack up to a competitor in our 2017 Audi Q7 review.
More Than Spacious
While the roomy cabin of the 2016 Acura MDX certainly gives it an advantage over competitors, it's far from the only advantage for the vehicle.
Engine: Under the hood of the MDX is a 3.5L V6 engine with 290 hp and 267 lb-ft of torque, enabling it to tow up to 3,500 pounds on front-wheel drive models.
Features: While many expect a luxury crossover to be laden with features, the MDX actually delivers with standards like driver memory settings, a power moonroof, leather-trimmed seating, push-button ignition, and more.
Safety: The available AcuraWatch Plus safety features give the MDX an edge over its competitors with amenities like forward collision warning, adaptive cruise control, collision mitigation braking, and more.
While some of the competing models we looked at have similar features available, few of them offer Chicagoland drivers as much as the MDX does.
Test Drive an Acura MDX
Now that you've seen the numbers, we want to show you how welcoming the 2016 Acura MDX interior space is in person. Visit a Chicagoland Acura Dealer near you today to get behind the wheel of Acura's seven-passenger crossover and see it for yourself. With a wide range of packages available, we think it's easy for Chicago-area families to find an MDX that fits their needs and budget.